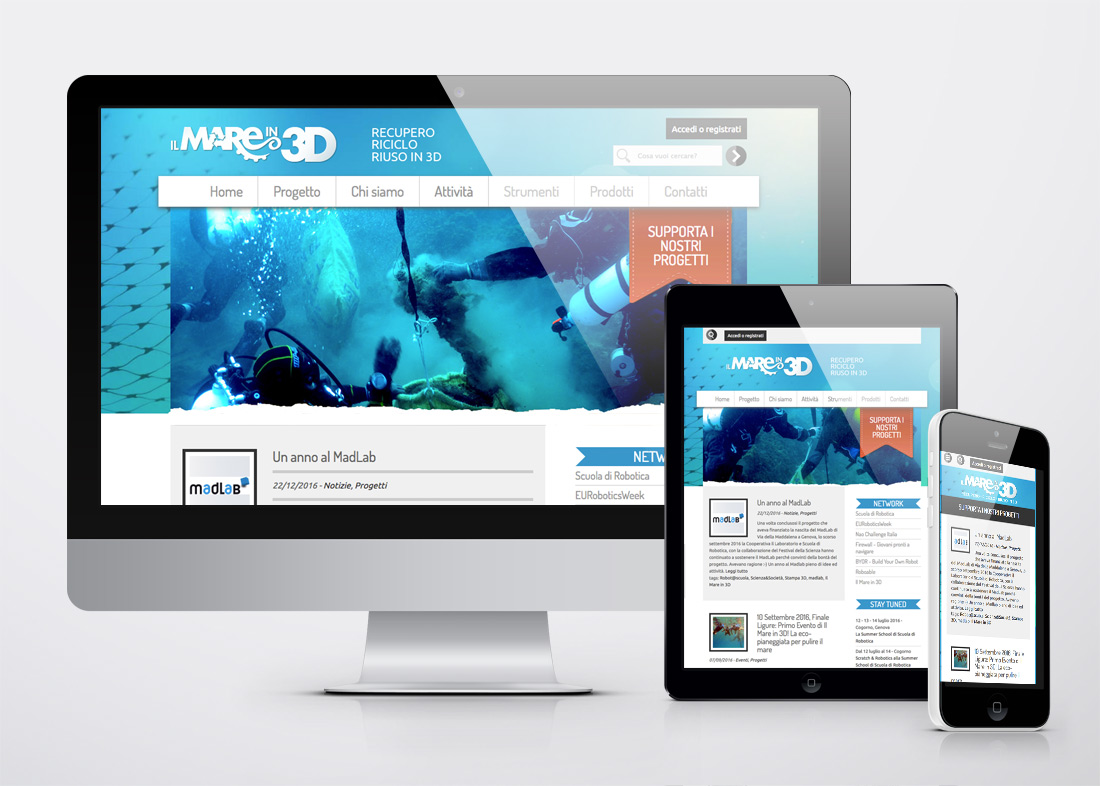 Il mare in 3d
Responsive website & logo
"Boosting a circular economy by triggering a virtuous circle aimed at sea preservation and giving new life to Waste abandoned by fishermen and beachgoers through 3D printing.
Il mare in 3d (sea in 3d) it's a project funded by Costa Crociere Foundation and created by Scuola di Robotica:
it experiments new ways to recycle plastic, recovered through seabed and shores cleaning operations, as basic material for 3d printed objects, mainly used in didactic activities (see the complete project description on the official website)
Logo e corporate image strongly recall the marine world in its shapes and colors.
The Logo mixes, in a flexible shape suitable both for vertical and horizontal use (and easy to cut out in 3 dimensions), a clean lettering and some sea related iconic elements (recycle icon, a wave and a octopus tentacle).
The website is created, in the peculiar colors of the project, within the coordinated serie that joins all the projects managed by Scuola di Robotica.

CURIOSITY
As first and more technical name for the project was used "3R3D", (Recover Recycle Reuse in 3 dimensions): the last picture represents the first logo version, with the 3 "R" and graphical elements related to sealife and recycle.
Logo
Year: 2017

Website
Year: 2016
Php scripting: Marco Avidano Wizlab
» See the website
Portfolio websites and graphics - some works